ACA History
NOTICE: The 2020 Anual Membership Meeting has been postponed and the Annual Spring Cleanup has been cancelled.
Abandoned Plot Proceedings - The Artondale Cemetery Association has initiated the process to identify Abandoned burial plots.
For more information, click here.
Total Burials since 1895: Approximately 750
Burials in 2021: Jerry Alan Graham
Burials in 2020: Diane Rae (Lowell) Crabtree.
Burials in 2019: Laura May (Knapp) Otto, Gary Russell SIber and John Eric Hein.
Burials in 2018: Liselotte (Schholtz) Price, Lane Eugene Packard, Judith Carolyn (McDonough) Gluba, Michael Lee Valley.
Burials in 2017: Sarah M. (Aune) Hageness, Raymond Emile St. Ours, Judith Ann (Casey) Ryle, Robert Kenner, Jr., Yvonne E. (Lewis) Woelke and James E. Austin.

Burials in 2016: Margaret Helen (Gellermann) Hays, Louis Wright Gellermann.
Burials in 2015: Anita Frances (Hunt) Sieber, Norma (Marvik) Hardy, Bette Mae (Sorensen) Mosich, Jeanne Carol (Gausta) Campen
Burials in 2014: Richard T. Gilden, Rebecca Sue "Becky" Smircich, William Thomas Wren.

Burials in 2013: Ruth Miriam Quesnel, Judith Elaine Quesnel(memorial headstone only), Anna May Quesnel, Olrikka Adilade (Ganty) Zelsman, Kathleeen Doris (Frank) Birch, James L. Birch, Henry Thomas Lebens, Margaret Luella (Snyder) Walline, Antone Mosich, Rodolph F. Nikolac.

Burials in 2012: Jill Renee Jeffrey-Natiello, Carla Jean (Evans) St. Ours, Nina Lee Clark Hook Halstead, Carolyn May Cook, Christopher Jon Billings.

Burials in 2011: T. Olai Hageness, Ward Austin Hunt, RoseAnn (Ford) Hunt, Francis James Sennett, Calvin C. Grow, Markus A. Price and Clara M. Hein.

Burials in 2010: Martin Frederick Babbitt, Francis James Sennett, Frederick Eugene Valley, Robert Crowell Weaver, Rudolph A. Tronca and Paul George Ancich.

Burials in 2009:Amelia Ann Britten, Shirley Ann (Uddenberg) Knapp, RoseAnn (Ford) Hunt, John N. Marvik and Norma Ann (Pahl) Marvik.
2020 Wreaths Across America at the Artondale Cemetery: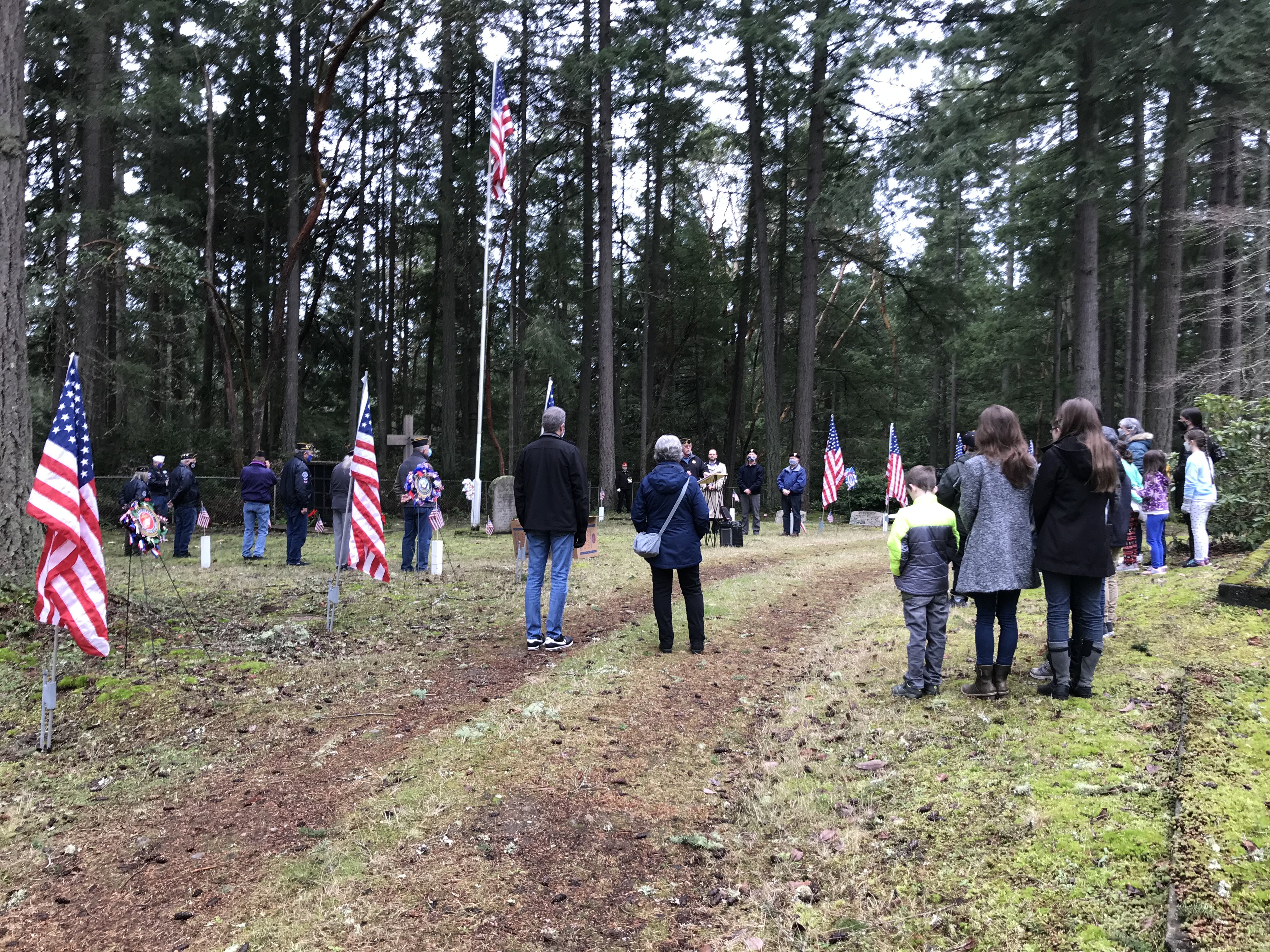 48-Niche Columbaria
Installed September 5, 2013:
Purchased from Premier Columbaria of Tacoma, WA
Foundation work done by Kelley Home Services of Gig Harbor, WA
From the Artondale Cemetery Association (ACA) Board Members:
Annual Dues: Thank you to all members who have over the years supported the Artondale Cemetery with annual dues and contributions. Many of you have contributed more than the $15 annual dues and we have made good use of the funds to maintain and improve the cemetery. We mail about 200 fliers each year in March and about 80 families respond.
Again, thank you to all have supported the Artondale Cemetery Association in the past and we hope even more families will join in the support of our local cemetery.
Burial Plots: Since 1895, the Artondale Cemetery Association has offered burial lots containing eight plots at the Artondale Cemetery. Now, years later, there are a number of lots with far less than the full eight burials used and no indication that there will ever be another family member buried there.
If your family has burial plots that will not be used, and your family is willing to give back or sell the unused plots to the Artondale Cemetery Association for use by others, please contact the ACA through the Sexton at Artondale@Yahoo.com or (253) 851-1625.
Your Artondale Cemetery Association at Work
The Artondale Cemetery Association has been providing gravestones for those who, over the years, had been buried without a gravestone.
Previous efforts had replaced about 70 gravestones for ones missing or wooden ones that had deteriorated.
The pictures here show the most recent effort, the placement of ten new gravestones in October 2012.
Current Artondale Cemetery Association rules require that a permanent gravestone is placed within one year of the burial.
The Story of Capt. Willam J and Laura (Terry) Duley


William J. and Laura (Terry) Duley's gravestones have recently been replaced or repaired. William, a Civil War Veteran, had only a small peice of his headstone remaining and Laura had a poem about mothers. Through the help of Gretchen Taflin, the grea-greatgranddaughter of William and Laura, we were able to get a replacement headstone for William from the Department of Veteran Affairs. Laura's headstone was found underground, about 8" down. We cleaned and repaired Laura's headstone.
On Wednesday, May 25, 2011, The Peninsula Gateway featured (on the front page!) an article, "Cemeteries Offer a Glimps into History" with pictures from the Artondale Cemetery. A well-written article by Alice Nelson.
Gravestone Cleaning and Repairing: We are in the process of cleaning and repairing gravestones. Recent efforts include releveling the Keller and Marsh gravestones that, over the years, had sunk into the ground and the top sections fallen off. See the pictures.

Gravestones: Premier Memorial of Tacoma, WA is a local company that can provide a wide range of gravestones and memorials. Learn more at their website: www.premiermemorial.com


Tree Removal: The Artondale Cemetery Association has the responsibility to maintain the Artondale Cemetery. In that effort, 8 trees have been identified that are either causing damage to gravesites or by their removal, would allow more burials. A vote at the ACA general meeting approved the removal of those 8 trees. Bids were requested for removal of those 8 trees and they were removed by Archon Trees Services, Inc, of Gig Harbor, WA on 20-22 September 2010. See the pictures. And again in May 2011, an arborist identifed five smaller trees that were dying or dangerous. Those five trees were removed 13 May 2011. All five trees were in the southest corner in an area with no burials.